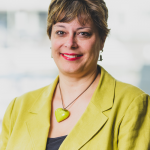 Vice President | Global Account Management
Helen Menniss is the Vice President of Global Account Management with GlobalStar Travel Management. Helen is responsible for the strategic development of the Account Management function for GlobalStar. Helen has been specialising in the travel industry for over 20 years.
Before joining GlobalStar Travel Management in 2012, Helen worked nearly 8 years for CWT where she managed a team of UK Account Managers working on Corporate and Public Sector business and latterly leading a team of Global Account Managers and Directors working with a portfolio of CWT's global clients. Prior to CWT Helen spent 5 years with the airline BMI as Corporate Sales Manager UK leading Corporate Sales and Account Management and helping develop the Corporate Star Alliance agreements.
Helen has also worked in Senior Account Management roles in the Non-Food and FMCG industries. Helen is keen to support the wider GlobalStar partner team in key client rebids, Global client strategy and further developing the GlobalStar Account Management offering.