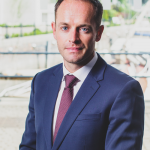 Vice President | Global Sales & Services
Chris Weedon is the Vice President of Global Sales and Services with GlobalStar Travel Management and joined the organisation in 2012. In this role, Chris takes responsibility for the strategic vision and development of global sales, training and mentoring across the GlobalStar partner network and product development.
Prior to joining GlobalStar, Chris held the position of Director EMEA, Global Sales and Services at RADIUS, where he was instrumental in the growth of the company. In this position, Chris led the end to end sales cycle for global corporations and provided direct sales and business travel consultancy. Chris has also worked as a Corporate Account Director within the travel industry and across several niche sectors within both HR and occupational psychology functions.
Outside of work Chris has a keen interest in rock climbing, running and photography. Chris is fluent in Spanish having spent a year living in Madrid and is currently looking for the next language to learn.