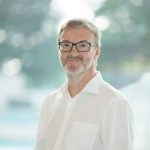 Executive Director | Information Technology and Supplier Relations
Julian Russell is the Executive Director of Information Technology and Supplier Relations with GlobalStar Travel Management and joined the organisation in 2021. He is responsible for the day-to-day management of IT and Supplier Relations as well as the long-term technology strategy.
Julian has worked exclusively in Corporate Travel for 22 years. Most recently at British Airways he managed the direct API NDC connectivity for Corporate Partners, joining the airline at a critical time in their NDC journey. Prior to this, Julian was the Director of Customer Technology Solutions at HRG and then Amex GBT for 20 years, where he managed a global team responsible for the retention and growth of business through technology solutions.
Julian is passionate about the role technology plays in supporting a successful travel programme and is excited to introduce new technology solutions to our Partners to help drive business growth and retention and reflect the dynamic changes in the content distribution model.